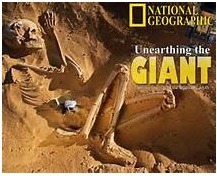 The Nephilim were on the earth in those days – and also afterward –

when the sons of God went to the daughters of men and had children by them.

They were the heroes of old, men of renown.

The Lord saw how great man's wickedness had become, and that every inclination of the

thoughts of his heart was only evil all the time. The Lord was grieved that he had made

man on the earth, and his heart was filled with pain. So the Lord said,

"I will wipe mankind, whom I have created, from the face of the earth…."

But Noah found favor in the eyes of the Lord.
 (The Book of Genesis 6:4-8)
By Pastor Andy Basilio
Where did the giants come from? [i] The text quoted above gives the answer. The operative words are "and also afterward."
Afterward the Flood, that is. But I'll return to that shortly.
Continue reading The Giants: WHO WERE THEY AND WHERE DID THEY COME FROM? →