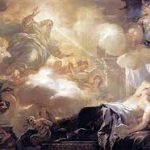 Shortly before YHVH handed the "tablets of the testimony" to Moses on Mount Sinai, he uttered the following declaration about one, Bezalel, who would lead the construction of the Tabernacle:
 "See, I have called by name Bezalel, the son of Uri, the son of Hur, of the tribe of Judah. And I have filled him with the Spirit of God in wisdom, in understanding, in knowledge, and in all kinds of craftsmanship." (NASB, Exodus 31:2-3)[1]
Bezalel, whose name means "in the shadow of God," was filled with the Spirit of God, furnishing him with a skill set of wisdom, understanding and knowledge by which he would undertake the melachah, translated as "craftsmanship" but meaning "creative work", of fashioning God's residence on Earth, the mishkan. Three terms are joined together in God's statement to Moses:
Wisdom (chokmah)
Understanding (tebunah)
Knowledge (da'at)
That Bezalel was filled with the Spirit of God is in essence to say that wisdom, understanding and knowledge were given to him by God. That is the first and most important thing to grasp. On the heels of that, what exactly do these terms mean, and how do they relate to the title of this lesson, discernment?