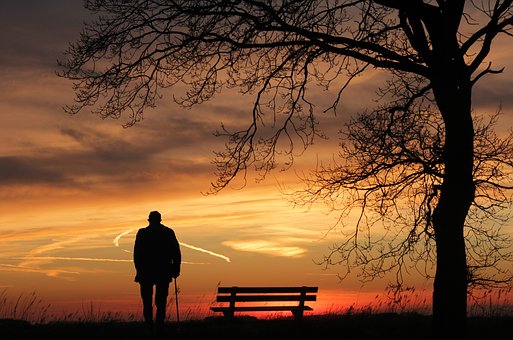 The other day I came across an article by Dr. David Jeremiah, a very well-known evangelical pastor. The article was entitled Some Say the Greatest Question in Life is 'Does God Exist?' I Say It's This One.  For Dr. Jeremiah, that question is this: " Do I know the God who does exist? Do I know about Him, and do I know Him personally?" In the gospel of John, Jesus declared to His Father: "This is eternal life, that they may know You, the only true God, and Jesus Christ whom You have sent." (John 17:3)
Knowing the God who does exist is apparently a very important matter.
A question arose in my mind: how does Dr. Jeremiah describe his "knowing" God? And then a second question came to mind: would knowing how Dr. Jeremiah knows God be something I could apply in my life and pass along to others? In the article, he states:
" I found a place. It's east of San Diego, not far from my home in El Cajon. Forgive me for not being more specific, but that little desolate spot in East County is sacred to me and I treasure its privacy.
"During trying moments of my life, I go there to be alone with God. During a difficult period some years ago, I spent a lot of time there, meditating and thinking, praying and sorting out my attitudes and decisions.
"It was holy ground where I could be alone – yet not alone, for the Lord always met me there. As I walked the rugged trails, I sensed His footsteps beside me. When we talked together, He reminded me of His Word. I pondered Scriptures stored up in my mind, and I told Him what was on my heart and cast my burdens on Him.
"I felt a kinship with the writer of Psalm 62, who said, 'My soul finds rest in God alone.'"
This, then, is how Dr. Jeremiah knows God. He retreats to a "little desolate spot" where he "could be alone with God." He spends "a lot of time there, meditating, thinking,  praying and sorting out" his attitudes and decisions. And while immersed in this, the Lord meets him, walks beside him and talks with him.
Dr. Jeremiah's experience with God places him in the elite company of a handful of Biblical figures. Noah walked with God (Genesis 6:9) as did Enoch (Genesis 5:24). Abraham walked before God (Genesis 17:1). Moses spoke to God as a man does to a friend (Exodus 33:11). Dr. Jeremiah has done all of these! Even Mary, the mother of Jesus, who was described as "favored with grace," was addressed by an angel, not by God Himself (Luke 1:28). By any measure, Dr. Jeremiah's claim about God walking and talking with him is a lofty one. It should not be interwoven into our relationship expectations.
What Dr. Jeremiah lays out in his article is the typical construct of the contemporary Christian's concept of relationship with God. It is completely private ("in a little desolate spot"), thoroughly individualized ("alone with God") and completely inner-directed ("meditating, thinking, praying"). The implication is that the everyday believer who earnestly practices these things will gain direct access to the Almighty, if not a full-duplex conversation with Him.
Soren Kierkegaard once said: " Christ did not appoint professors, but followers. If Christianity. . .is not reduplicated in the life of the person expounding it, then he does not expound Christianity, for Christianity is a message about living and can only be expounded by being realized in men's lives." How could I, or anyone else, reduplicate something so "private," so "personalized," so "individualized" such that its substance could be realized in my life? What method should I follow? Should I sanctify a private space, walk a trail, meditate, pray and think? And then God will walk with me, talk with me? Is my entirely personalized time with God something that I can pass along to others such that they too could do the same?
While Dr. Jeremiah asserts the importance of a "personal relationship" with God, all the details of how to bring this about are left vague. His approach to relationship, absent the details of what it might be, resists "reduplication." Prayer and meditation are avenues through which we can experience God. That is not at issue here. Equally not at issue is the privitization of prayer. Jesus often retreated to the wilderness on his own to pray. (Luke 5:16) However, whether meditation and prayer, done in the private realm of our minds, can be "reduplicated" by others is the narrower focus of this post. And to that end, something which complements those practices appears to be in order.
There is an approach to knowing God within the Scripture, sitting outside the usual Christian construct of personalized relationship. For that reason, it is rarely, if ever, taught in churches. It is articulated by the same writer, John, who recorded the words of Jesus cited above regarding the connection between knowing God and eternal life. "And by this we know that we have come to know Him, if we keep His commandments." (1 John 2:3) This verse has a literary parallel two verses later: "but whoever keeps His Word, in him truly the love of God is perfected. By this we may know that we are in Him." (1 John 2:5)
According to John, we know that we know God when we "keep His commandments." We know that we are "in Him" when we keep His Word. John does not present knowing God as a thought process; it is about obedient action. Knowing God is not preceded by sanctifying a place; when we do what God commands, we sanctify the space we are in, calling attention to the One whose commandments we obey.
To Kierkegaard's point, knowing God in the context of obedience is not so individualized and vague that it resists reduplication in people's lives. The commandments of God are articulated in Scripture such that we can do them,[1] and teach the next generation and the generation beyond that and so on, to do the same.[2] Knowing God is not the exclusive domain of inward, self-reflection; faithful obedience is the outward expression of divine precepts known by the inner self. The love of God that is perfected in us is realized in our lives by keeping God's Word. Our obedience is brought into the sight of others, not left in a desolate spot or kept secret in the hidden, inner recesses of our minds. To know God, obedience complements acts of meditation and prayer.
Dr. Jeremiah's point that knowing the God that exists is of paramount importance. I agree wholeheartedly with him.  It is not something, however, that exclusively calls for a retreat into private spaces, either externally or internally. The internal process of our private thoughts is not something that can be communicated from one person to another, and hence reduplicated across generations, in the absence of outward expression. When we obey the commandments of God, we draw the eternal words of the Almighty into our lives while outwardly expressing our relationship with God through our alignment with the will of our Maker.
END NOTES
[1] The LORD, through Moses, told the people of Israel: "Now what I am commanding you today is not too difficult for you or beyond your reach. 12 It is not up in heaven, so that you have to ask, "Who will ascend into heaven to get it and proclaim it to us so we may obey it?" 13 Nor is it beyond the sea, so that you have to ask, "Who will cross the sea to get it and proclaim it to us so we may obey it?" 14 No, the word is very near you; it is in your mouth and in your heart so you may obey it." (Deuteronomy 30:11-14)
[2]  "These commandments that I give you today are to be on your hearts. 7 Impress them on your children. Talk about them when you sit at home and when you walk along the road, when you lie down and when you get up." (Deuteronomy 6:6-7)