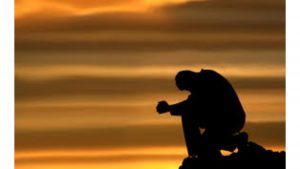 Faith has been kicked around in prayer circles as essential for the healing of the sick. I have heard it from childhood. I was prayed for as a child. The song I learned is still in my head: "Only believe, only believe. All things are possible. Only believe." And since becoming a minister myself I have prayed for the sick, encouraging them "to have faith." Another song comes to mind: "Have faith in God / Have faith in God / Have faith in God for your healing, have faith in God."
But how do we know the sick "have faith" to be healed? When they come to the healing line?  Or when they call on the Lord with tears in their eyes? Or when they give the evangelist their "seed" of faith that he demands? Or can it only be known after the fact?
Or is it all of the above? That is, healing verifies one's faith? Ah, there's the rub. Healing proves one's faith. Absent healing, absent faith. Correct?
The teaching "healing is in the atonement" is contributing to what I believe is a misunderstanding about the role of faith in healing the sick. The anchor text is "By His stripes we were healed."
On that basis we are told this: Christ died on the cross to save us. And "by His stripes we were healed."[1]We need faith to be saved. We need faith to be healed. Healing is in the atonement. Period. End of conversation.
We believe the scripture that says, "we are saved by grace through faith."  If anyone believes and comes to Christ for salvation he will be saved, 100% of the time. But we cannot say the same thing about the sick, can we? That is, that anyone who believes and comes to Christ will be healed, 100% of the time. Our experience will not allow us to say that. Do you see the problem here?
We tell every person who "came for salvation" that they are "saved."  But we cannot tell every person who "came for healing" that they are healed.  Not everyone we pray for gets healed. The escape mechanism here of evangelists is to lay the blame on the sick for "not having enough faith." But if the faith that saves is the same faith that heals, can anyone then "not have enough faith" to be saved?
Healing is not in the atonement. Healing is by the Sovereign will of God![2]
The problem is not that God is not near to heal when the sick is not healed. He is there when the sick is not healed. He is speaking to us LOUDLY.  We only need to listen. We only need to discern His Sovereign will and obey it.
Faith in God is important for healing, but not all who say they "believe" get healed. What may be causing the problem?
What may be causing the problem is our fixation on easy grace – this "easy believism." This is how we  want it done. We want to fast-tract matters in the church. The quicker a person is healed the greater the authority of the evangelist is deemed to be. Faith saves a person, at the drop of a hat. The evangelist invokes the Name and the sick is healed, also at the drop of a hat. Yet some of the sick remain sick. We believe ourselves into mysticism: "Just say the name of Jesus and the Devil will run for cover!" This exercise is funny if it weren't so pathetic!
Easy grace[3] blinds the church to its responsibility about "sin in the camp."[4]  If there is "sin in the camp" the Lord will not heal and the sick will remain sick. Here is James on praying for the sick:
Is any one of you sick? He should call the elders of the church to pray over him and anoint him with oil in the name of the Lord. And the prayer offered in faith will make the sick person well; the Lord will raise him up. If he has sinned, he will be forgiven. Therefore confess your sins to each other and pray for each other that you may be healed. The prayer of a righteous man is powerful and effective.
And here is the chiastic structure of the text:

What are sin and forgiveness doing in the middle of the structure (C/C)? "Confess your sins to each other that you may be healed."[5]
"Confess your sins to each other." This includes everyone in the prayer group. This includes everyone in the church. The healing of the sick is the responsibility of "each other" as members of the faith community, just as "discerning the Lord's body"[6] is the responsibility of the whole church when believers come to the Lord's table. Otherwise, "(t)hat is why many among you are weak and sick, and a number of you have fallen asleep."[7] God wired us together this way. We are members of One Body. Paul further drives the point home. "The body is a unit," he says, "though it is made up of many parts; and though all its parts are many, they form one body. So it is with Christ. For we were all baptized by one Spirit into one body… and we were all given one Spirit to drink. …If one part suffers, every part suffers with it."[8] Are we so out of tune from one another that we no longer feel their pain? That we do not feel the responsibility for one another?
Confession is part of the prayer of faith for the sick.[9] "And the prayer of faith shall save the sick and if he has committed any sin they will be forgiven him. Therefore, confess your sins to one another that you may be made whole."[10]
"One another" and "that you may be healed" are not matters of individual concern. "You" in the text is plural. Confessing sin places the sick and the church in a position to receive God's answer to heal the sick.
We require the sinner to repent; why not our sick?
Earlier in his letter James challenges his readers to show him their faith "by their works." Without works, he says, "faith is dead." What staggers me is what else James says about mere "belief." "Even the devil believes and trembles"!  Without the faith that "confesses sin" prayer for the sick is dead in the water.
Abraham's work justified his faith when he offered Isaac in obedience to God's will.[11] Rahab's work justified her faith when she helped the Hebrew spies escape.[12]
James then cites Elijah as his example of this kind of faith.[13] Why? Because the man was righteous. He boldly called Israel to repentance, speaking God's truth to earthly power. Righteousness is not an attitude. It is an act. It is something that you do in obedience to God's word. Like confessing sin and turning away from it. Like forgiving sin and restoring relationship in a faith community. "The prayer of a righteous man avails much."
The prayer of faith that does not accept James' teaching is a non-faith.
ENDNOTES
[1] Does the healing evangelist care what "by his stripes we were healed" mean to Isaiah or to Matthew or to Peter at all? Here are the texts. "But he was pierced through for our transgressions, He was crushed for our iniquities; The chastisement for our well-being (peace) fell upon Him, and by His scourging we are healed" (Isa 53:5). Healing is the forgiveness of our transgressions and our iniquities. After Jesus healed Peter's mother-in-law Matthew says many more were "healed." He then writes, "This was to fulfill what was spoken through Isaiah the prophet: 'He himself took our infirmities and carried our diseases" (Mat 8:17). What prophecy was fulfilled? That Jesus is the Healer? Or that Jesus is the Messiah? The healing was a dramatized claim for Jesus' Messiahship in terms of Isaiah's Suffering Servant Songs, Isa 42:1-9; 49:1-13; 50:4-11; 52:13-53:12. And here is Peter: "…and he himself bore our sins in his body on the cross, so that we might die to sin and live to righteousness; for by his wounds you were healed" (1 Pet 2:24). The healing envisioned here is our dying to sin to live in righteousness!
[2] Can anyone question the faith of the apostle Paul? Whatever was his "thorn in the flesh" he could not get rid of it, not even after praying three times for the Lord "to remove it." Yet the will of the Lord prevailed.
[3] The character of true grace is described in Scripture: "You must teach what is in accordance with sound doctrine. …For the grace that brings salvation has appeared to all men. It teaches us to say 'No' to ungodliness and worldly passions, and to live elf-controlled, upright and godly lives in this present age, while we wait for the blessed hope – the glorious appearing of our great God and Savior, Jesus Christ, who gave himself for us to redeem us from all wickedness and to purify for himself a people that are his very own, eager to do what is good. These, then, are the things you should teach" (Titus 2:1-15).
[4] Josh 7:10-13.
[5]This does not happen in the healing line anymore. There was a time when healing "crusades" incorporated a "faith clinic" in their one-week program. The sick registers and attends an orientation during the daytime before he can join the healing line in the evening. Nowadays, the pastor or evangelist just say a general prayer for all sick in attendance. Then the pastor will ask the congregation, "Who was healed among you?"
[6] 1 Cor 11:29. What is the "body of Christ" that we must discern? Read this: "And is not the bread that we break a participation in the body of Christ? Because there is one loaf, we, who are many, are one body, for we all partake of the one loaf" (1 Cor 10 :16b-17).
[7] 1 Cor 11:29-30.
[8] 1 Cor 12:12-13, 26a.
[9] Sandi Patti's "Rise and be Healed" is a great song, but it is only half of the coin. The other half is to confess sin and receive forgiveness for it.
[10] There are, of course, other matters that factor into a wider discussion of the subject of healing.  For instance, Scripture tells us some sickness may have demonic origin (e.g., Mat 17:14-18). Simply put, a disease may have organic or functional origin. Some patients in hospitals are there because they believe they are sick.
[11] Jas 2:21-24.
[12] Jas 2:25-26.
[13] Jas 5:17.