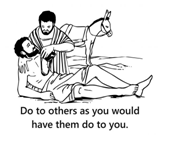 We have all heard it said about prayer. "We talk to God when we pray. And when we read the Bible He talks to us.
The statement makes the point that the 2 spiritual exercises are modes of communication.  I do not think the statement intends to limit our understanding of prayer or Bible-reading. I believe we can hear from God while we pray. And I believe we can pray as we read God's Word. Trust me, I know.
Now I want to share with you something else about prayer.  We all understand the spiritual dimension of prayer (man-to-God). Now I believe we should add to that understanding the social dimension of prayer (man-to-man).